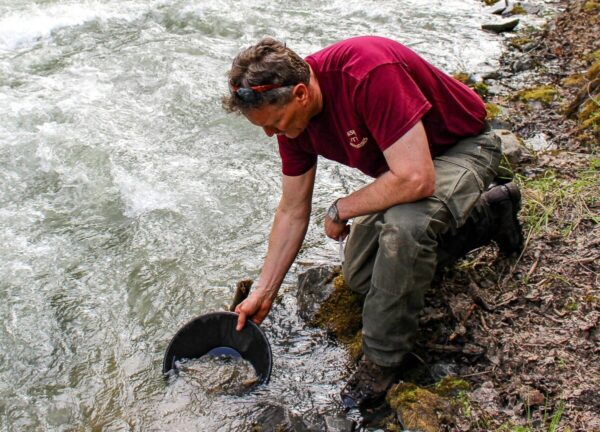 Gold Rush Description
7 Hours
Departs Anchorage – 9:00 AM Returns to Anchorage – 4:00 PM
Tour from downtown Anchorage to Alyeska Resort – 1 hour.
Self-guided hiking adventure on Winner Creek Trail – 1.5 hours
Walk across an exhilarating suspension bridge 100 feet above Glacier Creek.*
Continue on Winner Creek Trail to Crow Creek Mine – 45 minutes.*
Gold Panning and self-guided tour of Crow Creek Mine – 1.5 hours.
Shuttle ride on Glacier Valley Transit to Alyeska Resort Hotel.
Aerial tram ride to top of Mt. Alyeska.
Lunch at Bore Tide Deli.
Return trip to Anchorage.
*For the Summer of 2022 season, the suspension bridge across Glacier Creek will be closed.  At the end of the trail, you will need to do a roundtrip hike back to where our shuttle dropped you off for a ride to Crow Creek Mine.  This will add two additional miles to your hike making your hike a total of 5 miles.
Adults – $159
Seniors – (65+) $152
Children – (12 & under) $145
10% off group booking of 5 or more!  Use coupon code "GOLD10"